What's up guys. Here we will tell you a way to earn Free Robux using your mobile devices. No matter if you use Android or iOS, you will be able to generate free Robux coins.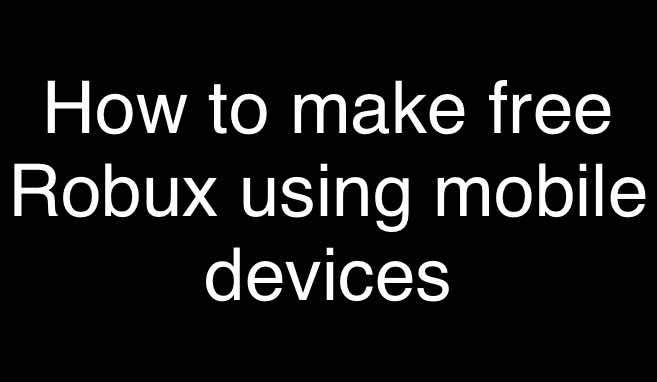 How to make free Robux using mobile devices
Method 1 : Selling clothes
You can create awesome clothes for your avatar! To sell your clothing creations:
First of all, go to the Create section located in the blue bar.
Now click on either Shirts, Pants, or T-Shirts.
Upload your design and create the item.
Then, click the gear to the right of the item you want to sell.
Click Configure -> select Sales -> turn on the "Item for Sale" option.
Enter the amount of Robux for which you want to sell your clothing.
Click the Save button. You will earn free Robux for every purchase of your item.
Enjoy 🙂
Method 2 : Build a game and enable in app purchases
Building games is easy on Roblox and you can create games even if you do not know how to code. So, just create your game and then you can earn Robux through multiple ways. For example, you create a game to flip a coin and predict the outcome.
After the game creation, you can use multiple ways for gaining Robux. It can be either of the following :
Sell player skins and themes for specific Robux.
Limit the number of game plays per day and allow players to play more by paying you extra Robux.
By creating game passes.
Make private servers.
Method 3 : Get Robux stipends After becoming the Roblox member
FIrst sign in to your Roblox account
After that click here to go to the membership purchase page
Click "Buy Now" & proceed with the payments.
That is it.
After you get the Roblox membership, you will get the Roblox stipend.
Important
The above steps are 100% authentic and safe to use. Never go for the spam softwares and applications, you will end up in loss always.
Also Read : How to corner clip in Roblox